What is the best slow juicer?
What is the best juicer for your needs?
There are three basic types of juicer: centrifugal, masticating and pressed. Centrifugal juicers work by first grinding the fruit and vegetables, then spinning them at very high revolutions per minute (RPM). The juice runs out and the pulp is ejected into a separate container. The end product is quite thick and cloudy, contains a lot of pulp and enzymes can be destroyed in the process. But they are an affordable way to start juicing.

Cold press juicers are the most expensive machine. They work by first crushing the fruit and vegetables, putting them in special bags and then pressing them with a hydraulic system. This system is used to produce a large quantity of juice as big expensive machines are involved. As a result they produce a good quality juice and give you more enzymes, vitamins and trace minerals.

Slow juicers (also masticating juicers) operate at a slower speed and they chew up fruit and vegetable fibers and break down their cell structure to squeeze out the juice with all the nutrients. They are as fast as the centrifugal juicers, but turning at a slower RPM. This way of masticating creates little friction and so no heat is applied to the fruit. They can produce a clearer, less cloudy high quality juice which is more nutritious as it retains less fiber, more enzymes, more vitamins and trace minerals.
So which is the best slow juicer?
We at Slowjuice have been investigating this question for a number of years. We want you to buy the slow juicer that best fits your juicing needs. There are many points to consider so let's try narrowing these down for you. Let's try to identify what you really need and like and what might be a nice to have. We have so many different slow juicers to choose from there is no definitive one juicer that is best. We need to look at your needs and then make recommendations based on these needs and desires. Below we can offer you some of our choices and please feel free to call us if you wish to discuss these with us. Above all we want you to end up with the slow juicer that best meets your needs.
Nature's medicine
A Twin Gear juicer is going to be the most beneficial if good health is what you are looking for. These slow juicers produce by far the best quality juice due to the slow RPM (revolutions per minute) and the fact that they press the juice extracting the most fibre, enzymes, vitamins and trace minerals. It is this nutrional value that makes this slow juicer the most recommended by health nutrionists. Don't forget this juicer does take a bit more time to clean and maintain.

Leafy Greens & Wheatgrass
If you are looking to juice leafy greens and wheatgrass then we would recommend a slow juicer such as the Matstone. This is an all round horizontal slow juicer with a single screw and ideal for leafy greens and wheatgrass. The Juicer also offers a very reliable juicer for the leafy greens and wheatgrass. For the slow juicer that really is the Rolls Royce of juicers we would recommend the Angel Juicer. This range of slow juicer offers the best juicing quality and is perfect for all of your juicing needs.








Price conscious
For the quickest way to begin juicing the most common fruits and vegetables we recommend our Hurom range. From the Hurom HH range with its space saving design to our 2nd generation slow juicers with a double bite auger these are our most popular models and ideal if you want to get juicing and want to keep it simple. If it is price you are really concerned about you could try our range of Z star juicers. These slow juicers are operated manually and so require no power. You will be doing your bit for the environment at the same time!


Good All Rounders
Our Hurom Juicers still offer the best range of choice and with their vertical slow juice mechanism offer an easy to use way of juicing.
| | | |
| --- | --- | --- |
| Easy to Use | | In terms of ease of use, beginning with the easiest the order is Centrifugal Juicers followed closely by Vertical Slow Juicers, and then Single Auger Juicers and finally the most complicated are Twin Gear Slow Juicers. For the really motivated amongst you even juicers such as the Angel juicer won't present any problems but will need a bit more care and attention. |
| | | |
| --- | --- | --- |
| Easy to clean | | Cleaning is always going to be a concern and we know from experience that customers want clear instruction on how to clean and look after their slow juicer. Most of our juicers have parts that can be washed in a dishwasher but we also recommend washing with brushes that are provided. This will enable you to get the fibres out from the housing extractors and gears where needed. Remember not to overuse any machine before cleaning it. We usually recommend no more than 30 minutes of juicing before cleaning. |
| | | |
| --- | --- | --- |
| How much does it cost? | | Of course customers are concerned about price. But they also want quality and it is squaring that circle that these notes are here to do. We feel very strongly that we at Slowjuice only stock the best slow juicers and we have rejected stocking some 'cheaper' machines precisely because they didn't meet our standards. Of course you can still see a price range from about £100 for our Z star juicers to over £1000 for our Angel slow juicers but don't forget these slow juicers are chosen for specific reasons and needs. All of our juicers have been tested and are products that we believe in. |
| | | |
| --- | --- | --- |
| Can I lift it? | | It can be a consideration if slow juicers are being lifted in and out of cupboards all of the time. Our Angel slow juicers can weigh up to 9.5kg and so this could be a consideration for elderly or disabled customers. We usually recommend that the juicer sits in the kitchen ready to use but we also recognise that this doesn't suit everyone. |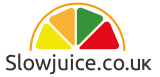 Why Slowjuice?
We at Slowjuice are committed to customer service and see ourselves as helpers to our customers in making the right choices. We are committed to the concept of healthy living and see Slowjuice as making a contribution to an often life changing decision. Slowjuice is proud of our reputation for customer service and we are always on the lookout for any products that can enhance that reputation.